Bending The Blues!

My
Bending the Blues
package consists of a 64 page book and two CDs.
The pictures and descriptions in the book will help you to learn to bend, or to bend better.
It includes lots of "Riffs" or "Licks" (short note combinations that sound great, which we memorize and use over and over).
Some are for players who can barely bend notes at all.
Other riffs are for intermediate and advanced students of bending.
Blues Scales are also included.
Want more details on what's in the Bending the Blues package?
Want to see the list of tracks in the Two CD Bending The Blues Set?
Or you can buy them right now, using the PayPal buttons below.
If you already own the Bending Book, you can buy the Two CD set separately.
You can also buy the Book only, but we DON'T recommend that — you have to listen, to learn bending!
And of course you can buy the entire set: Book and Two CD's (two hours and 38 minutes of listening pleasure)...
Buy Both the Book and Two CD Set Now: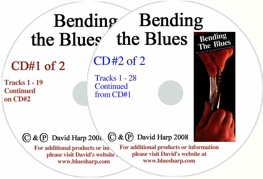 Buy the Bending Book ONLY now!
_____________________________________________

Buy the Two CD Bending Set ONLY now!